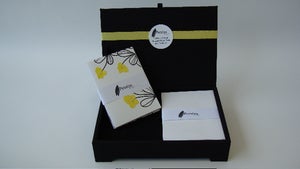 $

79.95
Style Number: MP10
Name: Mod Petal Box Set
Description:$79.95
The gift that keeps on giving! Ten cards with 2 designs from The Mod Petal Collection are presented beautifully in this hinged keepsake box covered in luxurious black textured fabric. The hand pressed flowers appear to dance on their graphic floral stems. Perfect for any occasion, the natural beauty of this black, white and yellow design will reflect your clean sense of style. Real flowers and the handcrafted process of this design give each note card its one-of-a-kind distinction and charm. Closed, the box makes a stunning addition to any desk. When opened, the recipient will think of you whenever they write a card.
Flat printing
80% post consumer fibers
Card: 4 1/4" x 5 1/2" Envelope: 4 3/8" x 5 3/4"
Keepsake Box: 9 1/2"W x 6 1/2"D x 2 1/2"H
ENJOY COMPLIMENTARY STANDARD SHIPPING.